Menu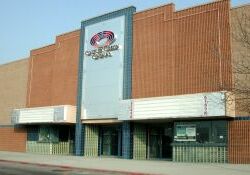 South Towne Center Cinemas

282 West 10600 South
Sandy, Utah

(? - 2001)

On 2 November 1990, Cineplex Odeon opened the largest theater complex in Utah at the time. The South Towne Center Cinemas was located in the northwest corner of the parking lot at the South Towne Mall and featured 10 auditoriums with a total of 2358 seats.

The two largest auditoriums had 318 seats, the next two largest had 294, and the remaining six had 189 seats each. Six of the theaters were equipped with Dolby Stereo and digital sound was later added to a couple of the larger screens.

The lobby and concession area featured "reconstituted marble, brightly colored wall decorations, ample lighting and multilevel ceiling heights."1

The South Towne theaters closed on 22 February 2001 as part of Cineplex Odeon's bankruptcy reorganization.

Westates considered turning the South Towne Center theater into an "intermediary" or second-run showhouse.2

In November 2002 the building was gutted and converted for retail.


1.
"Cineplex Odeon Seeking Bids for Complex"
, Deseret News, 7 June 1989, page D7
2.
"Movie house merry-go-round"
, Deseret News, 20 April 2001