Menu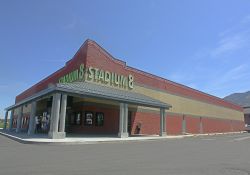 The Providence 8 Stadium opened in November 2002 and is the centerpiece of the Spring Creek Village at 517 West 100 North. The multiplex features eight auditoriums with wall-to-wall screens, stadium seating, and digital sound. The auditoriums range in size from 140 to 300 seats.
The Providence 8 Stadium was built by Westates Theatres at a time when most other theater chains were entering bankruptcy. Tony Rudman, Jr., vice president of Westates Theatres explained, "Construction is down which means costs are down. Interest rates are down which means loan rates are down. The bankers say, the five largest exhibitors have gone bankrupt, why should we lend to you? And I say, Because were not them."
1
1.
"With eight new screens going up in Providence, the Force is with Westates Theatres"
, Herald Journal , 25 August 2002