Menu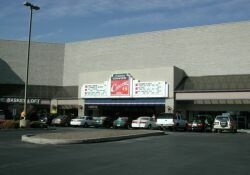 Megaplex Theatres
Megaplex Theatres Luxury at Cottonwood
(Holladay Center Cinema, Water Gardens Holladay 6)

1945 East Murray-Holladay Road
Holladay, Utah 84117
801-432-6605
megaplextheatres.com/cottonwood
(1988)

Cineplex Odeon opened the Holladay Center Cinemas on 3 June 1988, proclaiming it to be "the return of the elegant theatre." The six-screen multiplex featured "state-of-the-art wide screened cinemas" with "luxurious plush seating", "elegantly-designed contemporary interiors with marble floors", an original painting by artist Paul Sloggett, same-day advance ticket sales, and real butter on the popcorn. All auditoriums were equipped for Dolby Stereo and at one was equipped for 70mm presentations.[1]

After 14 years, the theater closed in March 2001 as part of the Loews Cineplex bankruptcy reorganization.

On 20 April 2001, Westates Theaters re-opened the Holladay Center after spending "several thousand dollars to refurbish several hundred of the seats in the Holladay Center's six auditoriums, install new computer software for ticketing and concessions and spruce up the sound in the auditoriums." "We think we've got the best theater in the area," said Tony Rudman Jr., vice president and corporate counsel for Westates. "This is a premium facility, and it's the perfect location. This theater fills a need for the area."[2]
1. "Advertisements", Megaplex Theatres Luxury at Cottonwood (Holladay), "Opening day ad", 3 June 1988
2. "Movie house merry-go-round", Deseret News, 20 April 2001, page W01