Menu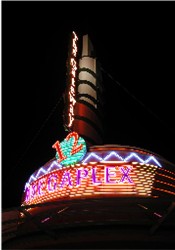 Megaplex Theatres
Megaplex Theatres at The Gateway
(Megaplex 12 at the Gateway)

165 South Rio Grande Street
Salt Lake City, Utah 84101
801 304-4636
megaplextheatres.com/thegateway
(2001)

The Megaplex 12 at the Gateway opened on 2 November 2001 and was built by a partnership of the Boyer Company and Utah Jazz owner Larry H. Miller. The theater complex, the second in the Megaplex Theatres chain, cost about $20 million[1] and has 12 stadium seating auditoriums ranging in size from 200 to 600 seats.

The Megaplex 12 is part of a $300 million development named The Gateway, built in the former rail yards on the west side of Salt Lake City. The Gateway offers a mix of retail, entertainment, residential, and office space, with an open-air feel. The entrance of the theater complex opens onto the second level of the shopping center and features a tall tower reminiscent of the Centre Theatre.

Cyber Café

On 3 June 2004 PC Laptops opened a Cyber Cafe at the Megaplex 12 at the Gateway, providing moviegoers with free high-speed wireless Internet access throughout the theater complex. PC Laptops also installed a three-computer Internet kiosk in the lobby for public use.[2]

Dan Young, president of PC Laptops, said that their Cyber Cafe at the Megaplex 17 at Jordan Commons was so popular that "people have practically been begging us to put one in at the Megaplex 12".[2]

Descriptive Video Service

In June 2004 the Megaplex 12 at the Gateway installed Descriptive Video Service (DVS), which provides blind moviegoers with an audio description of a movie's action and scenery through a special headset. Dave Sarle, who became blind after an accident at the age of 15, campaigned for DVS by writing letters to every theater chain in Utah. Megaplex Theatres responded by installing the $6,000 system in Theater 2 at the Megaplex 12. It was the first DVS installation in the State of Utah.[3]
1. "Miller to Run Gateway Theaters", Salt Lake Tribune, 16 March 2001, page C8
2. "PC Laptops to Open Cyber Cafe at Megaplex 12 at the Gateway", BusinessWire, 25 May 2004
3. "Narration lets blind enjoy films", Deseret News, 18 June 2004