Menu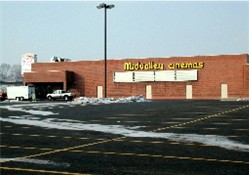 Midvalley Cinemas

5766 South Redwood Road
Taylorsville, Utah

(1983 - 2001 or 2002)

The Plitt Midvalley Cinemas opened on 8 December 1983, featuring six theaters with a total seating capacity of over 2000. The four larger auditoriums were equipped with Dolby Stereo and two were equipped with Silver-Glo screens to accommodate 3-D.

The Midvalley Cinemas was an expansion of Plitt Theatres into the south and west ends of the Salt Lake Valley. Prevously Plitt Theatres were mostly centered in downtown Salt Lake City.

Between 1998 and 2000, Cineplex Odeon expanded the Midvalley Cinemas by adding six screens. Despite the expansion, the theater could not compete with new stadium seating multiplexes. The theater closed after Cineplex Odeon entered bankruptcy and was demolished in March 2002.