Menu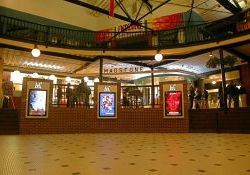 Regency Theatres
Trolley Square Cinemas
(Madstone Theaters)

602 East 500 South
Salt Lake City, Utah 84102

(1988 - 2008)

Cineplex Odeon opened the Trolley Square Cinemas on 28 June 1988 in the southwest corner of the Trolley Square mall. The theater had a more luxurious style than the other multiplexes of that time. The screens were covered with curtains and all four auditoriums were equipped with Dolby Stereo.



In 1998 Cineplex Odeon merged with New York-based Loews Cineplex. On 15 February 2001, Loews filed for protection from creditors under Chapter 11 bankruptcy, citing an "industrywide oversupply of theater screens". The Trolley Square Cinemas closed on 26 February 2001.[1]

Loews' bankruptcy is the latest in a trend that started last year when several big theater operators . . . filed for bankruptcy protection. Industry analysts have said that the biggest theater owners raced to outdo each other in the 1990s by building lavish theater megaplexes with stadium seating and gourmet food -- moves that pleased theater patrons but played havoc with the theater owners' balance sheets."[1]




Madstone Theaters reopened the theater on 8 August 2003, operating it as an art house. "The renovated theaters boast new projection and sound equipment, rows of seats broadly spaced so moviegoers can walk past without bumping knees, a lounge area with tables and big-screen TV, and a sparkling lobby opening out to Trolley Square's southern foyer and fountain."[2]

"Madstone Theaters offer a unique new destination for film lovers. The company strives to create a distinctive, community-oriented cinema experience through varied programming, engaging discussion and collaborative partnerships with local and national organizations. Each Madstone Theater features an array of exciting independent, art and foreign films, gourmet food & drink and a friendly and knowledgeable staff."[3]

On 7 June 2004, New York-based Madstone Theaters discontinued operations in Salt Lake City and six other cities because the theater chain was "not able to achieve its business goals."[4]



California-based Regency Theatres reopened the Trolley Square Cinemas on Christmas Day, 25 December 2004. Regency began negotiating with Madstone Theaters earlier in the year for the purchase of several theaters, but after the theater chain failed, Regency dealt directly with the Trolley Square mall. The acquisition was completed on 1 December 2004, six months after the theaters had closed.[5]

Regency spokesman Lyndon Golin said, "We provide a sophisticated movie-going experience. We sell espresso and cappuccino, imported chocolates and pastries. We'll try to bring in filmmakers to do Q&As. Our goal is to heighten the whole experience."[5]

The closure of the Trolley Corners Cinemas in June 2004 made it more difficult for the Sundance Institute to secure enough theaters for the 2005 Sundance Film Festival. Jill Miller, director of the Sundance Institute, said, "We had several contingency plans, but [the reopening of the Trolley Square Cinemas] really was the best news we could have gotten." Three of the four screens at the Trolley Square Cinemas were dedicated for Sundance during the 2005 film festival.[6]

The Trolley Square Cinemas closed a final time on 27 January 2008. Officials at Regency Theatres said the closure was related to the ongoing renovations at the mall, which apparently do not include plans for a movie theater.[7]


1. "Loews closing 3 Utah sites", Deseret News, 15 February 2001
2. "Art-house showdown: Utah flavor vs. New York slick", Salt Lake Tribune, 8 August 2003
3. Madstone Theaters web site, http://www.madstonetheaters.com./about.jsp, August 2004.
4. "Madstone closes its 4 Trolley theaters", Deseret Morning News, 7 June 2004
5. "Trolley theaters are again opening", Deseret Morning News, 22 December 2008
6. "Movieland: The Sundance Film Festival expands its theater base", Deseret Morning News, 20 January 2005
7. "Few chances exist to see foreign films in Salt Lake", Deseret Morning News, 3 February 2008