Menu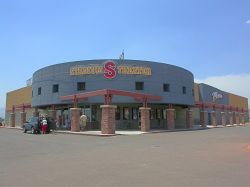 Megaplex Theatres
Megaplex Theatres at Sunset Stadium
(Sunset Corner Stadium 8 Theatres)

1091 North Bluff Street
St. George, Utah 84770
435 673-1994
megaplextheatres.com/sunsetstadium
(2001)

Westates Theatres opened the Sunset Corner Stadium 8 Theatres on 15 June 2001. The eight-screen multiplex features stadium seating and digital sound in all auditoriums. All three film digital sound systems are installed in the cinema: DTS, Dolby Digital, and SDDS. In addition to the main concession stand, there is an additional snack bar outside theaters Five and Six. Opening day movies included Atlantis and Tomb Raider.[1]

"The place was packed," observed a moviegoer who attended the opening night, although he goes on to exaggerate. "The concession lines were a mile long. Perhaps even a mile and a half long . . ."[1]

Another person commented, "The facility is nice, and the price was still reasonable."[1]

The Sunset Corner Stadium 8 was the first stadium seating theater in Southern Utah. Its popularity prompted Westates to add stadium seating to the St. George Cinema 6 and the Cedar City Cinema 8 and to build the Pineview Stadium 10.

The Sunset Corner Stadium 8 is part of a new development owned by the Gardner and Jennings families on the corner of Sunset Boulevard and Bluff Street. Westates Theatres, a family-owned business that started with one screen in 1958, leases the building.[1]
1. "New Stadium Theater", forums.southernutah.com