Menu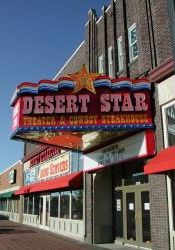 Desert Star Theatres
(New Iris Theatre, Vista Theatre, Desert Star Playhouse)

4861 South State Street
Murray, Utah 84107
(801) 266-2600
desertstar.biz
(1930)

Tony and Marguerite Duvall purchased the 16-unit Iris Apartment Building in 1923, and on the north side of it they built a small theater called The Gem. In 1930 the Duvalls demolished The Gem and the Iris Apartment Building, replacing them with the larger New Iris Theater and an 8-unit apartment building.[1]

In 1954 Duvall sold the New Iris Theater to the Sid Horman Construction Company, which then sold the theater to Art Proctor.[1] Proctor, who also operated the Avalon Theater and the Blue Mouse, changed the name of the theater from Iris to Vista. The name Vista was chosen because it would cost less to change the sign if two letters of the original name were reused.

In 1989, Desert Star Theatrics remodeled the Vista theater and reopened it as the Deseret Star Playhouse, a family-style dinner-theater featuring musical melodramas with light refreshments, soft drinks, and free popcorn on the tables. The stage was enlarged and the theaters seats were replaced with small, cabaret-style tables. They planned to later add pizza and ice cream to the menu and to enhance the sightlines by terracing the floor and adding raised sections along the sides of the auditorium. The opening of the Desert Star Playhouse was scheduled for 3 November 1989, but had to be delayed until 17 November 1989 because of problems in meeting Murray City's building codes.[2][3]

1. National Register of Historic Places Registration Form for the Murray Theater
2. "Melodrama Theater May Open Friday", Deseret News, 29 October 1989, page E11
3. "Hiss-torical Setting For Melodrama Troupe", Deseret News, 3 November 1989, page W1