Menu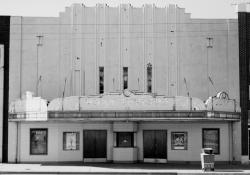 Roxy Theatre
(New Grand Theatre)

106 South Main Street
Brigham City, Utah

(1932 - 1979 or 1980)

The New Grand Theatre opened on 25 December 1932, showing Marlene Deitrich in "Blonde Venus." The theater was built in a space created by knocking down the walls separating the old Rosenbaum Hall from later additions. At least part of the wall and foundation of the old Rosenbaum Hall was left intact and still standing when the theater was demolished in December 1980.[1]

In 1935, new management brought the "Roxy" marquee down from Logan and renamed the theater the Roxy Theatre.[1] The Roxy opened on 23 October 1935 and was equipped with "a Motiograph wide-range talking apparatus and projection machine" and was "one of the very few theaters west of the Mississippi with the modern equipment."[2]

The last major remodeling of the theater was in 1949, when most of the Art Deco facade was added. In 1980 the Roxy's facade was considered "the best example of Art Deco style in Brigham City."[3]

The Rosenbaum Hall was an adobe structure built before 1884 and used as an assembly hall, school, and religious meeting place. In 1897 the building was purchased by the Fishburn family who reinforced the building with brick and operated it as a dry goods store. In 1904, the Fishburns built a one-story brick addition onto the north side of the old two-story hall. In about 1930, one continuous roof was built over the Rosenbaum Hall and the addition and the building was extended 25 feet farther westward. In 1931 the building was purchased with the intention of converting it into a movie theatre, but due to lack of funds for remodeling it was again sold in 1932. The new owners completed the theatre conversion, bricking in the buildings' windows and removing the wall between the old assembly hall and the northern addition.[1]

The Roxy Theatre was demolished in 1979 or 1980 to make way for a Smith's Food King store.
1. "Major Alterations and Additions", Library of Congress, 6 November 1980
2. "Logan, Utah Dateline", The Logan Library, logan.lib.ut.us, February 2004
3. "Architectural Form", Library of Congress, 6 November 1980, page 1