Menu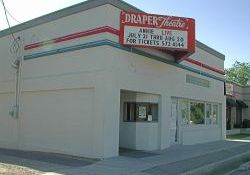 Draper Theatre
(Pearl Theatre, New Draper Theatre, Cameo Theater, Reel Theatre, Draper Historic Theatre)

12366 South 900 East
Draper, Utah 84020
801 572-4144
drapertheatre.org
(1938)

The Pearl Theatre was built in 1938 by the Howell family. It was named after the matriarch of the family and a daughter-in-law. For over 30 years the theater was known as the Draper Theatre.
From 1970 to 1973, the theater was named The New Draper Theatre. From 1976 to after 1986 it was the Cameo Theater.[1]
In about 1985, Robert Denning bought the theater and operated it for a time as the Reel Theatre. He later sold the theater and started the Reel Theatre chain, which had theaters in Oregon, Idaho, and Utah.
Charles and Vanessa Nelson purchased the Draper in 1988 and converted the stage to accommodate live performances. The theater is now known as Draper Historic Theatre and is operated by a non-profit board. The theater presents family-oriented musicals and plays. It used to occasionally show second-run movies, but stopped the practice in early 2002 because of competition from newly built megaplexes.
In the front of the building is a retail space that may originally have been a doctor's office. For many years it was occupied by the Draper Drug Store, before it moved to a new building on the corner of 12400 South and 10th East.
1. Salt Lake City Classified Business Directory, July 1970 through August 1986