Menu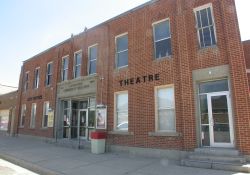 Lewiston Community Theatre

29 South Main Street
Lewiston, Utah 84320
(435) 258-1101
lewiston-ut.org
(1935)

The Lewiston Community Theatre is one of only a handfull of city-owned movie theaters left in the country. The cinema, which occupies the same building as city hall, caters to families and offers low-cost admissions and concessions.

The Lewiston Community Theatre was built as a replacement for the Lewiston Opera House, which was destroyed by fire on Christmas Eve in 1930. After the fire, the city decided to put a new building on the site that would house not only a theater but also a library, post office, a dance and recreation hall, city offices, and a jail.

In 1934 Lewiston obtained funding for the building through the Public Works Administration, a program enacted by President Franklin D. Roosevelt during the Great Depression.

The Lewiston Community Theatre cost $56,000 and opened on Friday, 2 August 1935. The first movie was "The Gay Divorcee", starring Fred Astaire and Ginger Rogers. Admission was 10 cents for children and 50 cents for adults.

In the beginning years the Lewiston Community Theatre had no concession stand, so moviegoers would stop at a nearby drug store to buy candy and snacks to bring to the show.

Children used see free movies at the Lewiston Community Theatre as a reward for delivering the theater's calendar of upcoming events.

The Lewiston Community Theatre used to show Spanish-language films on Sundays for Mexican immigrants who came from all over Cache Valley. After the movie they would have dances in the adjacent recreation hall.

The stage of the Lewiston Community Theatre has been used for plays and road shows put on by local church and civic groups. Many performers signed their names on the wall behind the movie screen.

Now days the 380-seat movie house is only open three days a week, but still draws a good size crowd. Tickets are only $2 a seat and popcorn is only 50 cents. Nothing at the concession stand costs more than $1.50.

The theater's best night is often Monday, when admission for the entire family is only $10. The Lewiston Community Theatre has a policy against showing R-rated movies, but family films usually sell the best anyway.[1][2]
1. "Lewiston's beloved theater: 2 bucks a seat, 50 cents for popcorn", Hard News Cafe, 29 October 2003
2. "Picture show salute", Herald Journal, 22 November 2003