Menu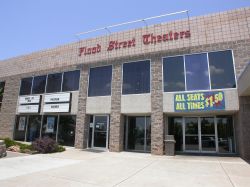 Flood Street Theaters

140 North 400 East
St. George, Utah 84770

(1992 to 1996 - 2012)

The Flood Street Theaters occupied 12,857 square feet of a two-story, 21,097 square-foot building built in 1992 as part of the Flood Street Commercial Condominiums.[1] The four-screen theater opened by 1996.[2]
The Flood Street Theater closed after its final showings on 26 September 2012. The last films to play on the theaters' screens were Madagascar, Snow White and the Huntsman, Step Up Revolution, and Ted.[3]
In a posting on his blog, Trevor Christensen wrote, "This month a theater that no one really seemed to know about closed its doors. It was one of the oldest theaters in St. George. Even though it would be a stretch to call it charming or even notable, a part of me is always a little sad when a town loses some history."[4]
Shaun Labrecque create a Facebook event for the theater's last day, saying, "Flood street is closing this Wednesday! Can you remember the first film you saw in a [St. George] movie theater? Well, it was most definitely a film print not a digital one. How would you like to say you saw the last film print in SG...? Wednesday is your chance! Let's all support the last theater running film prints by going to the last showing of the day."[3]
In December 2012, the Flood Street theater building and adjoining offices were listed for sale at $899,000.[1]
1. "Flood Street Theater Bldg & Adjoining Offices", www.loopnet.com, retrieved 3 December 2012.
2. Southern Utah Telephone Directory, November 1996
3. Facebook event posted by Shaun Labrecque, retrieved from Google cache on 3 December 2012.
4. "Flood Street Theater", www.trevorchristensen.com, 1 October 2012