Menu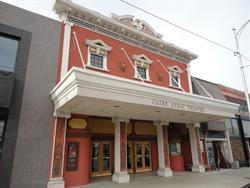 Caine Lyric Theatre
(New Lyric Theatre, Lyric Theatre)

28 West Center Street
Logan, Utah
435 752-1500
lyricrep.usu.edu
(1913)

The Victorian-style Lyric Theatre opened in 1913 and was built by the Thatcher family, which also built the Thatcher Opera House. The theater featured 388 seats and hand-carved columns. The theater's balcony was added sometime after the theater opened.[1][2]

Although the Lyric Theatre was used for vaudeville and live plays it eventually became exclusively a movie theater. The Lyric closed during the hard times following World War II and fell into disrepair. The heirs of the Thatcher family donated the theater to Utah State University in 1959. The Lyric was restored and reopened in 1961 as part of Utah State Theatre. In 1967 the Lyric Theatre became the home of the Lyric Repertory Company. The building was placed on the Utah State Register of Historic Sites in 1971.[1][2]

A second renovation of the Lyric Theatre, funded by grants and donations, began in 1996.[1][2]
1. Old Lyric Repertory Company web site, www.usu.edu/lyric/about.html
2. "Chapter 10, A Cultural Survey of the County: Arts, Activites, and Athletics", A History of Cache County, by F. Ross Peterson