Menu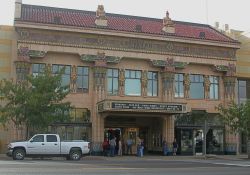 Peery's Egyptian Theater
(Peery's Egyptian, Egyptian Theatre)

2439 Washington Blvd
Ogden, Utah 84401
801 689-8700
egyptiantheaterogden.com
(1924)

Peery's Egyptian Theater opened on 3 July 1924 with Zane Grey's "Wanderers of the Wasteland."[1] The 1,200-seat theater was built by former Ogden mayor Harman Peery and his brother Louis at a cost of about $200,000. "The Egyptian theme was chosen due in part to the national craze in the early 20's for all things Egyptian following the discovery of King Tut's tomb."[2]

The theater features exotic pharaoh murals, gilded columns, and a domed ceiling designed to resemble the sky. Using lighting effects, the ceiling can simulate noon, sunset, or midnight with twinkling stars. Peery's Egyptian is one of about 12 Egyptian theaters left in the United States, and only one of two that has an atmospheric ceiling.[3]

In 1936 the theater became part of the Fox-Intermountain theater chain. In 1959, the Egyptian's original theater pipe organ was removed.[1]

After years of neglect, the movie house was shut down in 1984. Van Summerill and other preservationists spent eight years trying to save the theater from the wrecking ball.[3] "It survived several near scrapes with destruction, including several where the wrecking ball was at its doorsteps."[2]

The Egyptian Foundation acquired the building in 1984 and later donated it to Weber County as part of a $16.3 million conference and performing-arts center project. As part of the project, the Egyptian was to be refurbished for stage plays, concerts, dances, and old movies. A new art deco building was to be built next to the theater for academic seminars and business meetings. The project was a complex union of six entities: the Egyptian Foundation, Weber County, the city of Ogden, Weber State University, private donors, and the Ogden/Weber Chamber of Commerce.[3]

After an award-wining restoration, Peery's Egyptian Theater reopened in January 1997 as an 850-seat performing arts and movie theater.[2]

In 2001, installation of a Wurlitzer 3-manual, 13-rank theatre pipe organ was in progress.[1]
1. "Peerys Egyptian Theater", cinematreasures.org, Comment by Van Summerhill, 11 May 2001
2. "A Brief History", http://www.peerysegyptiantheater.com/history.html
3. "Partners Are Key to Egyptian Theater's Rebirth, Revitalization of Downtown Ogden", Salt Lake Tribune, 10 January 1993, page B1