Menu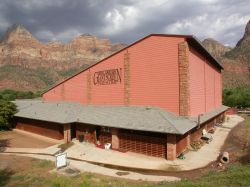 Zion Canyon Giant Screen Theatre
(Zion Canyon Theatre, Zion Canyon Cinemax Theatre)

145 Zion Park Blvd
Springdale, Utah 84767
435 772-2400
(1994 - 2017)

The Zion Canyon Giant Screen Theatre, located at the south entrance of Zion National Park, is part of a complex that includes Toaquim's Villge, the Thai Sapa Restaurant, and Sol Foods Cafe & Grocery Store.[1]

The theater opened on 26 May 1994 to show the film "Zion Canyon: Treasure of the Gods" using a large-format 70mm projection system by iWERKS. The theater's screen is the largest in Utah, at 82 feet wide and 60 feet high. The 22,000-watt sound system features eight channel digital sound.[1]

The Zion Canyon Giant Screen Theatre is operated by Destination Cinema and had its millionth customer in the spring of 2000.[2]
1. "Theatre Information", zioncanyontheatre.com, September 2007
2. "To IMAX and beyond. . . .", Deseret News, 8 September 2000, page W1