Menu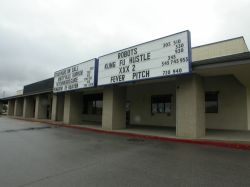 5 Star Cinemas
(Reel Theatre)

8325 West 3500 South
Magna, Utah

(1991 - 2011)

The Reel Theatre, located in the Arbor Park shopping complex in Magna, has five theaters ranging in size from 150 to 270 seats. The first three auditoriums opened in December 1991 and the final two on 10 April 1992.
The Reel Theatre was "the first theater in Salt Lake Valley to show first-run motion pictures and discount-priced second-run movies,"[1] a mix designed to bring a wider range of moviegoers to the concession stand. Initially the three smaller auditoriums were used for discount movies while the two larger ones, equipped with digital sound, showed first-run films. Eventually the whole complex was devoted to first-run films.
Robert Denning, who owned the theater, chose Magna because "Salt Lake is overscreened on the east side. The farther away from the competition, the better off we'll be. Time will tell how wise it is."
However, the Reel Theatre chain later went bankrupt. After being closed for a time, the Reel Theatre in Magna was reopened by Consolidated Theaters and renamed the 5 Star Cinemas.
1. "Magna Theater Miles From Competition", Salt Lake Tribune, 10 April 1992, page B9