Menu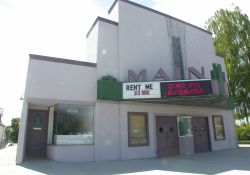 Main Theatre
(Ballyhoo Theater)

141 North Main Street
Smithfield, Utah
801 563-3922
(? - Before 2004)

The Main Theatre was built in 1899 as a community social hall and was used for touring vaudeville companies, local stage productions, dances, skating, and boxing matches.

When it became a movie house in 1939, the Main Theatre was remodeled and enlarged. A wall was built behind the movie screen so the stage could be turned into an apartment.

In 1996 the Main Theatre became the new home of the StageStop Theatre Company, which started seven years earlier in a century-old barn on the banks of the Bear River in Collinston. StageStop installed new carpeting, chandeliers, and a majestic grand drape. The apartment behind the movie screen was removed so the stage could be restored.

StageStop's first production at the Main Theatre was "Noises Off", starting 1 March 1996. StageStop planned to restore the exterior of the building over the next few months and eventually convert the stage into a in-the-round format.

In 1997 StageStop owners Jodie and Soni Barrus decided to pursue other ventures. The last performance of the StageStop Theatre Company "Fiddler on the Roof" on 9 August 1997.

By 1999 the Main Theatre was showing movies again, under the management of Marty Spicer. After the demise of the on-campus Alternative Cinema club in 1996, Spicer ran independent films at the Main Theatre. By 2003 the art film showings had stopped. In the summer of 2004 the theater was closed and available to rent.[1][2][3][4]
1. "3 Major Openings in State Are North of S.L.", Deseret News, 25 February 1996, page E8
2. "Curtain Rising on 4 Wasatch Front Plays", Deseret News, 28 January 1996, page E4
3. "Movie cuts: Cache kids kept out of R-rated films all along", Herald Journal, 12 June 1999
4. "Finally", Herald Journal, 31 January 2003