Menu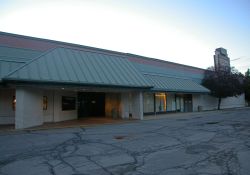 Central Square Theatres
(Central Square 4)

175 West 200 North
Provo, Utah 84601

(1979 - 2000)

Mann Theatres opened the Central Square 4 on 15 November 1979, with Running, Yanks, Nutcracker Fantasy, and Apocalypse Now. The gala grand opening featured a visit by well-known actress Rhonda Fleming, wife of Mann Theatres owner Tedd Mann. The theater chain owned 20 theaters in Utah, including three others in Utah County.[1][2]
The Central Square mini-mall was built inside the former Taylor furniture store by American Real Estate Co., under the direction of developer O. D. Hall. In addition to the four-plex theater designed by Mel Glatz of Denver, the development included a Trailways Bus terminal, a bank, and two restaurants.[3][2]
Central Square 4 followed the movie industry's trend for small, multiple auditoriums with choices of program and long runs. The four auditoriums averaged 250 seats, each sound insulated from the others.[4][2]
"The theatre decor makes extensive use of red, white, and blue. Carpets are blue with red accents, walls are boldly graphic in vivid colors, and auditoriums are completely draped in red and blue. Restrooms are completely tiled and special facilities are provided for the handicapped throughout the theatre. Each auditorium is sound insulated from the others.
"The projection rooms with their light airy tiled open space are a far cry from the old steel boxes of days gone by. Projectors now resemble computers with their simple controls and indicator lights. Arc lamps are replaced with Xenon bulbs and the film is no longer on reels. Now it coils away automatically on large horzontal 'platters' some four feet or so across, feeding endlessly into the projectors and rewinding within itself."[2]
After opening the Wynnsong Cinemas in 1997, Carmike Cinemas changed Central Square to a dollar theater, putting it into competition with the popular Cinemark Movies 8.[5]
Carmike Cinemas closed the Central Square 4 on 17 August 2000, a week after filing for Chapter 11 bankruptcy. Carmike was one of several theater chains which took on too much debt building new multiplexes with stadium seating and digital sound without closing enough older, underperforming theaters.[6]
1. "Rhonda Fleming, Ted Mann Visit Provo", Daily Herald, 18 November 1979, page 38
2. "4 New Theatres Open Tonight", Daily Herald, 15 November 1979, page 18
3. "Bus Terminal Moves to Provo Central Square", Daily Herald, 14 May 1979, page 3
4. "Up Front: 'Star Trek' to Open in Provo Sans Dolby", Daily Herald, 3 December 1979, page TV8
5. "Cinema plays a big role in Utah Valley", Daily Herald, 3 August 1997, page A1
6. "Carmike closing doors on two local theaters", Daily Herald, 18 August 2000, page A5