Menu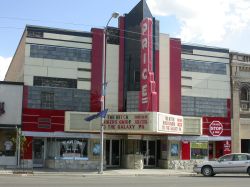 The Price Theater was built in 1938 by Charles E. Huish, who had an independent chain of theaters in Price, Helper, Payson, Spanish Fork, Richfield, and Elko, Nevada.

When the Price Theater opened, movie theaters did not have concession stands. Barney De Vietti, first manager of the Price Theater, said, "I guess nobody thought of putting in concessions in the theaters. Didn't know what they were missing."

At first moviegoers would stop at the at Greene's and the American Candy Store to buy candy to bring with them to the theater. Later the theater added a candy machine.

"It proved to be a gold mine," De Vietti said. "I was always filling that machine. I remember it would be empty all the time - people going in there and picking up the candy and stuff. From that I went to two machines and then pretty soon you had your candy counters. So the concession stand turned out to be a big business."[1]
1. "Interview with Barney De Vietti", 25 January 1978, Utah State Historical Society