Menu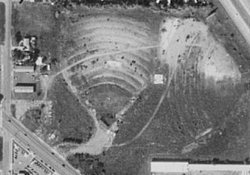 Davis Drive-In

1334 North Main
Layton, Utah

(1950 - 1991)

The Davis Drive-In opened in 1950.[1]

In March 1958 the Davis Drive-In was the first theater bought by Tony Rudman, Sr., who later helped found the Trolley Theatres and Westates Theatres chains.

Two months after his father bought the Davis Drive-In, Tony Rudman Jr. was born. As a boy, TJ's job was to patrol the drive-in. "Sneaky teens clambering out of car trunks would freeze in the beam from Tony's flashlight."[2]

On the Fourth of July the Rudmans would entertain audiences at the Davis Drive-In with fireworks. "We'd shoot 'em into an alfalfa field," Tony Rudman, Jr. Recalls. "We'd always set it on fire, and always had the fire department there to put it out. It was a great way to grow up."[2]

In the spring of 1991 the Davis Drive-In opened for its final season. Believing that the 23-acre site was worth more as prime commerical property than as a drive-in, the Rudmans put the theater up for sale. At the time drive-in had two screens, with a capacity of 800 to 900 cars each.[1]

In November 1992 developers demolished the Davis Drive-In to make the site more attractive to a potential buyer.[3]
1. "Curtain Set to Fall on Davis Drive-In", Deseret News, 10 April 1991, page B4
2. "With eight new screens going up in Providence, the Force is with Westates Theatres", Herald Journal, 25 August 2002
3. "Davis Drive-In Will Be Demolished", Deseret News, 18 November 1992, page B1