Menu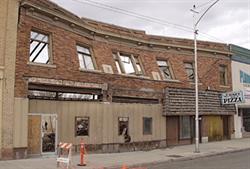 Venice Theater
(Ermo Theater, Foote Theatre)

Main Street
Nephi, Utah

(1915 - 1983)

The Ermo Theater was built above Salt Creek, which cooled the theater during the summer months. Children of the community would sit on horses outside the theater's windows and watch the movies for free. The theater was later renamed the Venice Theater.
1
The Venice Theater was destroyed by a fire on 27 November 1983,
2
and the facade of the building was demolished on 5 March 2001.
3
Plans to replace the Venice Theater by building a new theater complex in Nephi never came to fruition.
4
1. E-mail from Jerry Shepherd.
2.
"Fire Destroys Nephi's Venice Theater"
, Salt Lake Tribune, 29 November 1983, Page 2B
3.
"GOING... GONE"
, Nephi Times-News, 1 July 2003
4. See the
list of news articles
for the Venice Theater.
Notes:
The Venice Theatre was listed in Polk's Utah Gazetteer and Business Directory for the years 1918-1919, 1920-1921, 1922-1923, 1927-1928, 1930-1931