Menu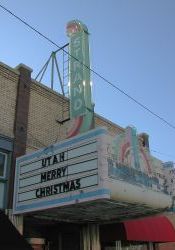 Strand Theatre

Helper, Utah

(1922 - After 1955)

The Strand Theatre was built in 1922[1], probably by the Ossana family. In the early 1930s the theater was run by William (John) Littlejohn, who moved to Helper after managing two theaters in Price.[2] In 1935 Littlejohn lost the lease on the Strand Theatre, so he built the Bonnie Theater nearby. The Strand Theatre was then taken over by Huish Enterprizes, an independent chain of theaters owned by Charles E. Huish of Eureka. Huish had theaters in Helper and Payson, and later on in Price, Spanish Fork, Richfield, and Elko, Nevada.[3]

The Strand Theatre had two little shops on either side of the theater entrance, one of which was used as a jewelry store and the other as a confectionary and later a dress shop. Since the Strand did not have a concession stand, moviegoers would stop in the confectionary to buy candy and popcorn. The confectionary had a little hand popper for popping corn.[3]

In the basement of the theater was a combination pool hall and lottery, which was legal at the time. Later the Ossana family opened the Strand Sweat Shop in the basement.[3] In 1997 the basement held an old card room, a Southwestern-themed dance hall, and a bar.[4]

Behind the Strand Theatre the Ossana family built the Hillcrest Apartments,[3] which were later known as the Hillcrest Hotel.[4]

In its early days the Strand Theatre ran matinees on Wednesday, Saturday, and Sunday. Barney De Vietti, who worked at the Strand in the 1930s, said, "We opened about 1:30 or so and [would] run right until about midnight or so, and boy those were long hauls. When I worked in the booths, you know, you stay in that booth and never get out of there for that many hours . . . Someone would always bring me up my lunch or something of course, but that was quite a long deal."[3]

De Vietti later took over as manager of the Strand Theatre when Ray Sutton moved to Provo and opened his own theater.[3]

The Strand Theatre stopped showing movies sometime after 1955.[5]

In 1997 the Strand Theater and Hillcrest Hotel were owned by Don Carlow, who installed a new roof and who had plans to restore some of the structure and open shops. The theater, which is now used mostly for storage, cannot be used for entertainment because it does not meet current codes. Baron Willison, caretaker of the theater, says it would cost less to build a new theater on the site than to restore the old one.[4]
1. "Chapter 15, Recreation", A History of Carbon County, by Ronald G. Watt
2. lofthouse.com/USA/Utah/carbon/history14.html, quoting an obituary in a local newspaper
3. "Interview with Barney De Vietti", 25 January 1978, Utah State Historical Society
4. "Locals remember Helper's heyday", Deseret News, 4 December 1997, page B1
5. "Rural 3", movie-theatre.org