Menu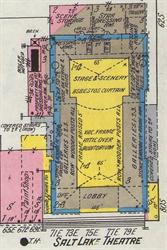 Salt Lake Theatre

75 East 100 South
Salt Lake City, Utah

(1862 - 1928)

The Salt Lake Theatre was built by leaders of the Church of Jesus Christ of Latter-Day Saints. Church President Brigham Young declared himself "designer and general dictator of the whole affair"[1] and had his rocking chair placed in the center of the front row when the theater was finished.

Construction of the Salt Lake Theatre began in July 1861 and the theater was completed in March 1882, at a cost of $100,000. William H. Folsom, architect for the Salt Lake Temple, designed the exterior of the building. E. L. T. Harrison designed the interior, which was modeled after the London Drury Lane Theatre.[2]

The gold and cream-colored theater was graced by galleries, front boxes, and proscenium. "Virtually every star of the American stage appeared there including Sarah Bernhardt, Ethel, John, and Lionel Barrymore, P.T. Barnum, Maude Adams, Edwin Booth, "Buffalo Bill" Cody, Al Jolson, and Lillian Russell."[3]

In the 1920s, the theater was sold to Mountain States Telephone and Telegraph for $200,000. It was demolished in 1928 and replaced by a telephone exchange.[2]
1. "Shattering the Vase: The Razing of the Old Salt Lake Theatre", Ronald W. Walker and Alexander M. Starr, Utah Historical Quarterly 57 (1989): 66
2. "THEATER IN UTAH", Ann W. Engar, Utah History Encyclopedia
3. "Chapter 3: The World Moves In", A History of Salt Lake County, by Linda Sillitoe, Utah State History CD-ROM