Menu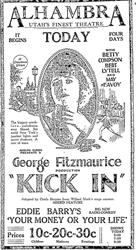 Alhambra Theatre
(Paramount Theatre)

2429 Kiesel Avenue
Ogden, Utah 84401

(1915 - ?)

The Alhambra Theater opened before 1918[1] and showed movies from about 1920 to 1925.[2]
The Alhambra Theater was the largest theater in Ogden. It was torn down in January 1971. Many of the ornate decorations, chandeliers, and painted drops from the Alhambra were donated for use in the New Alhambra Theater, which opened on 29 January 1971 at 2550 Washington Blvd.[3]
The Paramount Theatre was opened sometime before 1927[4]; and closed after the 1950s. Although the theater had a large seating capacity, the projection booth was miserably small. The booth was located right under the edge of the balcony.[5]
1. Polk's Utah Gazetteer and Business Directory, 1918-1919, 1920-1921, 1922-1923
2. "Ogden", movie-theatre.org, listing as its sources the Film Weekly Film Journal yearbooks 1920, 1925, 1930, 1935, 1940, 1945, 1950, 1955 and International motion picture almanacs 1961, 1964, 1969, 1975, 1980, 1985, 1990, 1995, 1998, 2000
3. "New Theater In Ogden Sets Opening", Salt Lake Tribune, 24 January 1971, page E5
4. Polk's Utah Gazetteer and Business Directory, 1927-1928, 1930-1931
5. utahtheaters.info guestbook entry by Bob Koch