Menu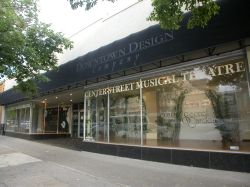 Center Street Musical Theatre

177 West Center Street
Provo, Utah
764-0535
(2004 - ?)

Center Street Musical Theatre and Performing Arts opened on 8 April 2004 with its production of "The Pirates of Penzance." The new 300-seat musical dinner theater occupies 19,000 square feet in the former J.C. Penney building in dowtown Provo.

The Center Street Musical Theatre is the fulfillment of a 15-year dream of owners Gavin and Sharilyn Grooms, who invested $50,000 and signed a $600,000 lease option.

The performing arts center, which has three dance studios, a recital hall, and a voice studio, will offer voice and dance classes and workshops. The building will also be available to rent for wedding receptions, concerts, business luncheons, and conventions.

One of the building's rooms has been converted into a family area so the Grooms can be with their seven children as much as they can during evening performances.[1]
1. "Provo adds new dinner theater to performing arts menu", Daily Herald, 24 March 2004