Menu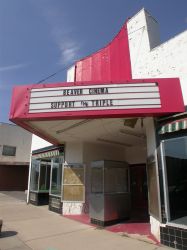 Main Street Theatre
(Firmage Theatre, Cinema, Showhouse, Cinema Beaver, Beaver Cinema)

55 North Main Street
Beaver, Utah 84713

(1937 - ?)

The Firmage Theatre was built at a cost of $25,000 and opened on 6 August 1937. The "De Lux" motion picture showhouse had 400 seats and the most up-to-date sound equipment.[1] "Lobby appointments give the air of distinctive colorings in white, blue, beige with trimmings of stainless steel. Groups of modernistic furniture add the finishing touch."[2]

The Firmage Theater was later owned by Elizabeth Dewsnup, who would drive up from Cedar City on weekends to run a movie theater. Before moving to Cedar City, Dewsnup owned theaters in Price where she worked as a college professor.

About 1983 the theater was renamed "The Cinema". Between 1992 and 1996 it was renamed "The Showhouse". In 1999 it was listed in the phone book as "The Cinema Beaver".[3]

In July 2002 the closed Beaver Cinema was for sale at $125,000. The theater featured a state-of-the art platter system, 300 seats, and 7,000 square feet of commercial space. The Beaver Cinema had two shops on either side of the theater entrance. [4]
Scott Fotheringham, a respiratory clinician, and his wife Jennifer, re-opened the 286-seat cinema as the Main Street Theatre on 26 July 2008 with Kung Fu Panda. The front hallway has art deco light fixtures from when the theater first opened and bright red carpet from the MGM Grand Hotel in Las Vegas.[5]


1. "Chapter 7 Prosperity and Depression 1920-1950", A History of Beaver County, by Martha Sonntag Bradley
2. "Beaver's New $25,000 Theatre Will Open Tonight," The Beaver Press, 6 August 1937
3. "Beaver Cinema", cinematreasures.org
4. Southern Utah Telephone Directory, October 1983 through May 1999
5. "Indie Cinema in Beaver: Main Street Theatre", 26 October 2009, Salt Lake City Weekly