Menu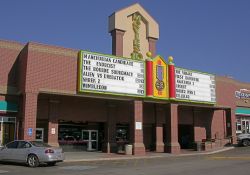 Cinemark USA
Cinemark Sugar House
(Sugarhouse Movies 10)

2227 South Highland Drive
Salt Lake City, Utah 84106
801-466-3699
cinemark.com
(1992)

Dallas-based Cinemark USA opened the Sugar House Movies 10 on 27 March 1992 as part of the new Sugar House Shopping Center, anchored by ShopKo. The state-of-the-art movie theater featured 10 stereo-equipped auditoriums, from 160 to 298 seats each, with a total capacity of 1,800. All theaters were accessible to people with disabilities and offered earphones for the hearing impaired.[1][2]
Theater 6, the largest, was equipped with THX sound, "a revolutionary audio system created by George Lucas, which offers the best possible stereo for movie music, sound effects and dialogue."[2] The system must be certified yearly by a Lucasfilm technician. Lucas developed the THX certification program after realizing "audiences could not hear much of the elaborate soundtrack he had created for his 'Indiana Jones' movies."[1] Sugarhouse Movies 10 had the fourth THX-certified screen in Utah. The first three were also at Cinemark theaters, in Provo, Layton, and Sandy.[2]
Cinemark built the Movies 10 as a second-run or "dollar" house, hoping to fill the niche between first-run movies and home video. Their Provo discount theater consistently brings in the most gross revenue of any of Cinemark's 150 locations across the country. "People are going to go see the three or four big movies of the year, the 'Batmans' for example," said Lynn Norton, Cinemark's director of marketing. "We are trying to get them back in the habit of seeing movies in theaters regularly. Families are getting priced out. Parents with four or five children have quit going to the movies."[1]
The opening of the Sugarhouse Movies 10 made Dallas-based Cinemark USA Inc. the largest motion-picture exhibitor in Utah at the time, with 59 screens along the Wasatch Front. The previous leader was Cineplex Odeon at with 58 screens.[1]
By mid-December 2012, all screens at Movies 10 had been upgraded to digital projection.[3]
Movies 10 closed for remodeling after its showings on Sunday, 2 November 2014. The Monday newspaper ad said, "Renovations are underway... Cinemark Sugarhouse Movies 10 is currently closed for a major remodel that will bring a fresh new look and exciting new amenities! We apologize for any inconvenience."[4] On its web site, Cinemark listed the Salt Lake cinema as one of ten to be upgraded with Luxury Loungers, electric-powered recliners with cup holders and footrests. The other nine theaters slated to receive the "oversize, plush, comfortable seating" were all first-run.[5]
A similar renovation in Huber Heights, Ohio was expected to take several months and included an updated lobby and a new concession stand. Of the Ohio project, Cinemark CEO Tim Warner said, "This full remodel will enable us to continue to offer our guests the highest levels of comfort and technology. Cinemark's new Luxury Lounger recliners will be the perfect addition to this popular theatre and will offer customers a complete entertainment experience."[6]
The "All-New Cinemark Sugar House" reopened on 6 March 2015, showing nine first-run films and one CinéArts feature. The installation of recliner seating reduced capacity of the complex by 65%, from 1,800 to 640 seats. The renovation inlcuded new screens and sound systems. Auditoriums were renumbered, with largest inverting its number from 6 to 9. Despite the upgrade to luxury recliners, the theater charged the same admission prices as other first-run Cinemark cinemas in the area.
1. "Dollar Complex Makes Cinemark New Utah Leader in Movie Screens", Salt Lake Tribune, 27 March 1992
2. "Cinemark USA Opens 10-Plex in Sugar House Shopping Center", Deseret News, 27 March 1992, page W6
3. cinemark.com, retrieved 18 December 2012
4. "Advertisements", Cinemark Sugar House (Salt Lake City)
5. "Cinemark's Luxury Loungers", cinemark.com, retrieved December 2014
6. "Cinemark Announces Plans to Remodel 16-Screen Movie Theatre in Huber Heights, Ohio", Cinemark USA, 1 October 2014