Menu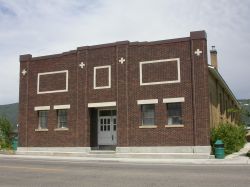 Fairview Dance Hall

55 South State Street
Fairview, Utah


The historic Fairview Dance Hall, located at about 55 South State Street, is used for family reunions, dances, weddings, and other community events. The dance hall has a stage and beautiful hardwood floors.

The Fairview Dance Hall was damaged by fire in the 1890s. The building was restored in the early 1990s.

Since 1990 the North Bend Entertainers have staged their plays in the Fairview Dance Hall.[1]
1. "Chapter 14: From Homesteading to High Technology", A History of Sanpete County, by Albert C. T. Antrei and Allen D. Roberts, Utah State History CD-ROM