Menu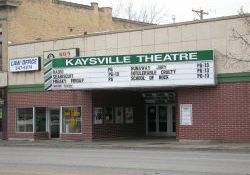 The Kaysville Theatre is three-screen discount theater owned by Bill Call, who operates the theater along with his two sons and their wives.
In December 1991 Call began a $250,000 remodel of the Kaysville Theatre, financed by the sale of a theater in Roy that was demolished as part of a city redevelopment project.  The original auditorium reopened on 21 February 1992 with new seats and a seating capacity reduced from 350 to 260.  Two new auditoriums were created in adjacent retail shop space and opened in May 1992, each seating about 125.  The theater also had new decor, greatly expanded restrooms, a new snack bar, and a new sign.  The exterior of the building the theater was expanded into was also redone to match the original theater.
"RENOVATION PLANNED FOR THEATER IN KAYSVILLE"
, Deseret News, 18 November 1991, page B3
"REMODELED KAYSVILLE THEATER OPENS FOR BUSINESS"
, Deseret News, 20 February 1992, page B3