Menu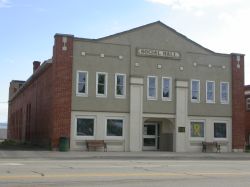 Panguitch Social Hall
(Panguitch Playhouse, Mascott Hall, Social Hall)

50 East Center Street
Panguitch, Utah

(1890 to 1900)

The Panguitch Social Hall, originally called Mascot Hall, was built between 1890 and 1900. It was used for dances, parties, school assemblies, plays, chautauquas, wedding receptions, county fairs, etc.

The Social Hall has a curved roof and walls that were three bricks thick. The building was originally heated by two pot-bellied wood-burning stoves. During the summer, wide double-doors on either side of the hall were left open for ventilation.

In 1920, the Social Hall was damaged by fire and rebuilt.[1]
1. Daughters of Utah Pioneers marker dated 1991