Menu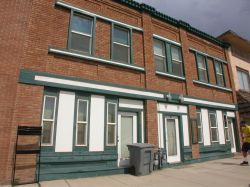 Star Theatre
(Eugene Theater)

16 North Main Street
Hurricane, Utah

(Before 1927 - After 1958)

The Star Theatre was owned by Eugene and Leah Wadsworth, who would sometimes let moviegoers earn the 35-cent admission by hauling rock of their fields. Since there was no television until 1958, "everyone went to every change of shows".[1]

At the groundbreaking of the Coral Cliff's Cinema in May 2004, Mayor Tom Hirschi said, "I think back to the old Eugene Star Theater. Many years ago as a youngster, I remember we used to ask Gene, 'Is there a good movie?' and he'd say, 'Best damn show in town.'"[2]

The Star Theater opened before 1927[3] and showed movies until after 1958. [4]
1. "Mayor Hirschi Remembers the Hurricane of his Youth", Hurricane Valley Journal, 19 November 2003
2. "Coral Cliff's Cinema 8 Breaks Ground", Hurricane Valley Journal, 25 July 2004
3. Polk's Utah Gazetteer and Business Directory, 1927-1928
4. "St. George", movie-theatre.org, listing as its sources the Film Weekly Film Journal yearbooks 1920, 1925, 1930, 1935, 1940, 1945, 1950, 1955 and International motion picture almanacs 1961, 1964, 1969, 1975, 1980, 1985, 1990, 1995, 1998, 2000