Menu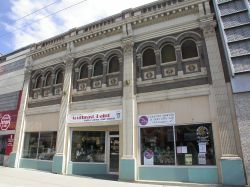 Star Theatre

20 East Main Street
Price, Utah 84501

(1924 - After 1935)

The five Georgedes brothers, Pete, Angelo, Charlie, George, and Harry, built the Star Theatre in 1924. The brothers, natives of the Greek island of Mytelene, immigrated to the United States and became sucessful businessmen by the early 1920s. Their heritage shows in the front facade of the theater, which features Corinthian columns and masks representing figures from Greek theater. Architect for the Star Theatre was J. A. Headland of Salt Lake City.[1]

The theater was acquired by Duane and LaVern Steele in 1964 and by Curtis Steele and Scott Sjostrom in 1985.[1]
The auditorium of the Star Theatre had a sloped floor resting on crossbeams a few feet over a concrete floor with the same contour. This area below the auditorium floor may have provided air circulation. The stage featured a fly loft and a basement with dressing rooms. A walkway below the auditorium floor connected the lower level of the stage with a possible dressing room in the northeast corner of the building. Of the two front basement rooms, only the northeast room was accessible from the lobby by stairway. The northwest room could only be reached by a trap door in the ceiling and likely provided storage for concession supplies and marquee letters.[2]
After the Star Theatre stopped functioning as a theater, its first use was as an office supply store. A single-story retail space was created by replacing the sloped floor of the auditorium with a level floor and adding a wall in front of the proscenium arch. The balcony was removed and a second-story floor added. Although the new upstairs area is used only for storage, the decorative details of the original auditorium walls and ceiling can be seen. Storage space extends to the stage, which was also divided into multiple levels, and to the basement, which has a conveyor belt connecting it to the store.[2] Southeast Paint has occupied the building since before 2005.

1. Nation Register of Historic Places marker
2. Coversation between Matt Lutthans and the owner of Southeast Paint, 10 August 2011