Menu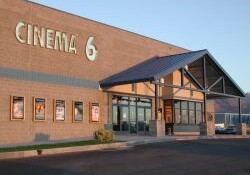 UEC Theatres
UEC Theatres 9
(Tooele Cinema 6)

1600 North Pine Canyon Road
Tooele, Utah 84074
(435) 843-5800
uecmovies.com
(After 1998)

The Tooele Cinema 6 was built by Big Screen Distribution, a company formed by Summit Entertainment (Mark Morris and Jeff Roylance), Westates Theatres (Anthony Rudman and Jim Nicholodemus), Bob Tempest, and Mike Tempest.[1]
The $2.4 million theater complex features six auditoriums with wall-to-wall screens, state-of-the-art digital sound,[1] and a total seating capacity of nearly 1,068.[2] Footage of coming attractions was to be shown on monitors in the concession area. The 18,000 square-foot cinder block construction was built on a 4.5 acres site. Central Bank of Springville funded the project, with about $550,000 in equipment provided through First Security Leasing.[1]
Union Pointe, the contractor for the Water Gardens Cinema 6, was also expected to build the Tooele Cinema 6.[3] The two theaters share a similar design with other Westates Theatres in Providence, Cedar City, and St. George.
Construction on the Tooele Cinema 6 was scheduled to begin on 26 May 1998, with an expected opening of Thanksgiving 1998, but on 18 May 1998 agreements with a contractor had not been finalized.[1] The theater may not have opened until March 2000.[4]
In September 2000, the Tooele Cinema 6 began testing a new online ticketing system. Admission tickets and concessions vouchers can be purchased online and printed out at home, allowing patrons to bypass lines at the theater box office.[5]
"This move to Internet ticketing is an attempt to provide greater convenience to our customers," said Tony Rudman. "The assurance of finding a seat for your movie as well as the ability to avoid any line at the box office, especially during the winter months, is a major benefit of the online ticketing system."[5]
1. "$2.4 million, 1,100-seat cinema complex to be built in Tooele", Enterprise, 18 May 1998
2. "UEC Theatres 9", cinematreasures.org, retrieved 1 September 2009
3. "Pleasant Grove movie complex opens day before Thanksgiving", Deseret News, 12 November 1997, page B3
4. The Tooele Cinema 6 was listed in the Salt Lake Tribune's weekly movie listing, "The Movie Page", on 10 March 2000, but not before 25 February 2000
5. "Avoid lines by buying movie tickets online", Deseret News, 8 September 2000