Menu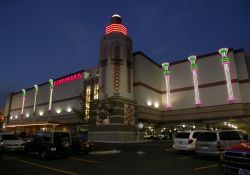 Cinemark USA
Cinemark at Provo Towne Center
(Cinemark 16)

1200 Town Center Blvd.
Provo, Utah 84601
801-852-8526
cinemark.com
(1999)

The Cinemark at Provo Towne Center opened on 12 November 1999 and was the second theater complex built by Cinemark USA in Utah County. The 65,000 square foot multiplex was built as part of the new Provo Towne Center Mall by the south interchange of I-15.

"We would like to bring a family experience to Provo, making [the Cinemark at Provo Towne Center] the ideal place for families to spend time together" said Randall Hester, vice-president of marketing and communications at Cinemark USA, Inc. "With so many movie choices, there is something for every member of the family."

All auditoriums have stadium seating with high-back rocking lounge chairs, cupholder armrests, and a 16-inch height difference between rows. Every theater has digital sound, with twelve DTS Digital, two Dolby Digital, and two SDDS sound systems. Auditorium sizes vary from 112 to 299 seats, with a total seating capacity of about 3,000. The theater complex has six box office stations, two concession stands, two sets of restrooms, and video arcade game room.[1][2]
1. " Cinemark USA to open new all-stadium theatre in Provo, Utah", Cinemark USA, 2 November 1999
2. "Tinseltown Hits Provo, Utah", Cinemark USA, 15 September 1998