Menu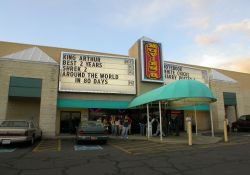 The Cinemark Movies 8 opened on 6 October 1988 and features stereo sound in all auditoriums, which range in size from 200 to 300 seats. One auditorium was originally THX-certified and was the first public THX auditorium in the state of Utah.[1] The 23,000-square-foot theater complex is located in the Plum Tree Shopping Center near Brigham Young University in Provo.

Cinemark choose the Provo location for the dollar theater because they saw an untapped market for discount theaters. "We are trying to capture the lost audience that was priced out of the movie-going experience," Senio said. "We will offer the dollar price at a first-class theater. People will get the same exact thing, we just wait for the second-run release."[1]

In 1992, a Cinemark official said that Movies 8 "consistently brings in the most gross revenue of any of Cinemark's 150 locations across the country."[2]
Cinemark began advertising digital projection on all screens starting 21 December 2012.[3]
After 29 years in business, Cinemark Movies 8 closed after final showings on Thursday, 16 March 2017. The discount theater complex will be replaced by a hotel and parking terrace, as part of a total remake of the property. When the Mix at River's Edge development was announced in March 2016, plans included keeping the theater, but in the fall Cinemark opted not to renew its lease. Some residents enterained having a petition asking for the theater to remain. New to the Mix will be a hotel, three office buildings, and a 293-unit apartment complex, and smaller stores with an walkable esplanade. Cafe Rio will join existing restaurants: Cafe Zupas, Olive Garden, JCW's and Jimmy Johns. Wilson Diamonds will also remain. [4,5]
1. "Provo 8-Theater Complex to Charge $1 for Movies", Deseret News, 15 September 1988, page B7
2. "Dollar Complex Makes Cinemark New Utah Leader in Movie Screens", Salt Lake Tribune, 27 March 1992
3. www.cinemark.com, retreived 18 December 2012
4. "Movies 8 to say goodbye to Provo as The Mix begins", Daily Herald, 22 February 2017
5. "Provo, movie fans say goodbye to Cinemark Movies 8", Daily Herald, 17 March 2017