Menu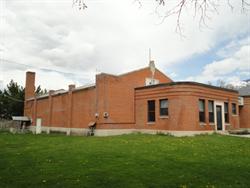 Richmond Theater
(Richmond Opera House, Kinema Theatre, Richmond City Hall)

6 West Main Street
Richmond, Utah 84333

(Before 1940 - After 1955)

According to Polk's Utah Gazetteer and Business Directory, the Richmond Opera House was open from about 1912 to 1927.[1] In 1927, Polk also listed the Kinema Theatre.[2]
The Richmond ward of the Church of Jesus Christ of Latter-Day Saints showed movies in Richmond about 1935.[3]
The Richmond Theater showed movies from about 1940 to 1955.[3]
1. Polk's Utah Gazetteer and Business Directory, 1912-1913, 1914-1915, 1918-1919, 1920-1921, 1922-1923, 1927-1928
2. Polk's Utah Gazetteer and Business Directory, 1927-1928
3. "Brigham City", movie-theatre.org