Menu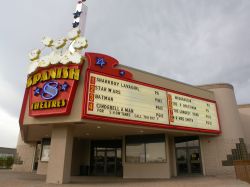 Spanish 8 Theatres

790 Expressway Lane
Spanish Fork, Utah 84660
(801) 798-7991
(1997 - 2016)

When Jon Traisault and Ray Bori designed the Spanish 8 Theatres, they wanted to create a family-oriented facility that would give the members of the community the features they wanted. In addition to low prices, digital sound systems, and automated projectors, the theater has child-sized toilets in the restrooms and sculptures of children by Springville artist Gary Price.[1]

The $3 million theater complex opened on 19 November 1997 and has three sizes of auditoriums, with the smallest seating about 100. Love seats have a folding arm rest so they can be used a regular seats as well. The theater has a $82,000 computer system that sells advance tickets over the phone. When patrons arrive at the theater they swipe the credit card used to make the purchase and their tickets print out.[1]

The Spanish 8 Theatres lost 30% of its business when the Stadium Cinemas opened in nearby Payson in May 2000. In April 2002 the Spanish 8 Theatres filed for Chapter 11 bankruptcy. Traisault and Bori turned down an offer to sell the theater for almost half of its value because they were determined to work through the bankruptcy and make the theater profitable. In November 2002 one of their creditors, Stearns Banks, filed a lawsuit asking the court to change the theater's bankruptcy to Chapter 7, which would force the owners to sell the property.[2]

Imagination Theatres managed the Spanish 8 Theatres from some point until May 2003, when the theater became part of the new CinemaStar Theatres chain. In November 2005, CinemaStar Theatres became Red Carpet Cinemas.
1. "New theater complex caters to kids", Deseret News, 10 December 1997, page B1
2. "Bank sues Spanish Fork movie theater over bankruptcy", Daily Herald, 27 November 2002