Menu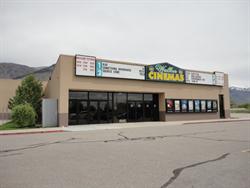 Walker Cinemas
Walker Cinemas
(North Pointe Theatres)

1610 North Washington Blvd
North Ogden, Utah 84414
801-737-9183
http://walkercinemas.net/
(About 1998)

The North Pointe Theatres opened in the fall of 1998 and were managed by the owners of the Pointe Theatre in Ogden. The North Pointe Theatres closed on 15 October 2008,[2] sixteen months after the opening of the Megaplex 13 at the Junction.

The Walker family reopened the four-screen multiplex on 13 February 2009. The theater was renamed the Walker cinemas, after the family's eight screen theater in Perry. The public was invited to check out the facility with a free open house on 12 February 2009.[1]

"We like to keep a family-run business and keep the atmosphere friendly with people coming. We thought this theater would fit into our structure," said owner Kerry Walker. "The building and equipment was in good shape. We've had to fine-tune projecting equipment to get better quality for films. We're getting all the seats dry-cleaned and throwing some paint up in the lobby."[1]
1. "N. Ogden theater to open Feb. 13", Ogden Standard Examiner, 30 January 2009