Menu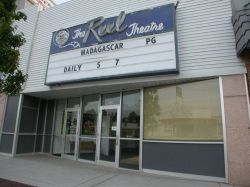 Ideal Theatre
(Ideal City Theater, Reel Theatre II)

115 North Main Street
Heber City, Utah 84032
654-1181
hebercitytheatre.com
(Before 1918)

The Ideal Theater opened before 1918[1] and showed movies from about 1930 to 1955.[2]

In September 1942, the Ideal Theater and Wasatch Theater offered a free movie ticket for each person who purchased a 25-dollar war bond.[3]

John Miller started a silent movie theater in Heber in the mid 1920s, but its name and location are unknown. By the 1940s, Miller moved to American Fork.[4]

About 2000, the Ideal Theatre was renamed the Reel Theatre II.[2] Between June 2005 and May 2006 the theater returned to its name of Ideal Theatre.
1. Polk's Utah Gazetteer and Business Directory, 1918-1919, 1920-1921, 1922-1923, 1927-1928, 1930-1931
2. "Rural 3", movie-theatre.org, listing as sources the Film Weekly Film Journal yearbook 1920, 1925, 1930, 1935, 1940, 1945, 1950, 1955; and International motion picture almanac , 1961, 1964, 1969, 1975, 1980, 1985, 1990, 1995, 1998, 2000
3. "Chapter 7: World War II", A History of Wasatch County, by Jesse L. Embry, Utah State History CD-ROM
4. "Grove Theater Legacy", New Utah, 4 December 2003, page 3