Menu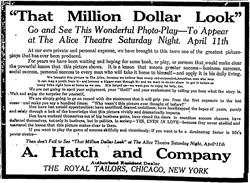 Alice Theatre
(Buell's Hall)

North Main Street
Heber City, Utah

(1909 - By 1915)

The Alice Theatre was originally known as Buell's Hall[1] and was located on north Main Street.[2]

R. R. Strong of Provo leased Buell's Hall and opened it as the Alice Theatre on 15 November 1909. Admission was 10 cents. The theater featured "an exhibition of the highest class, equal to the best moving picture shows of Salt Lake City."[3]

By November 1914 a new theater named the Ideal was showing movies in Heber.[4] The Alice Theatre Company was organized in January 1915, perhaps as an attempt to use the Alice Theatre for live performances.[5] In June 1915, F. O. Buell converted the former theater into a garage.[2]
1. "[Picture Shows and Theater Troups are Coming In]", Wasatch Wave, 19 November 1909, page 2
2. "Local Waves", Wasatch Wave, 11 June 1915
3. "High Class Moving Picture Show Coming", Wasatch Wave, 19 November 1909, page 2
4. "Advertisements", Alice Theatre (Heber City)
5. "Local Waves", Wasatch Wave, 15 January 1915, page 5