Menu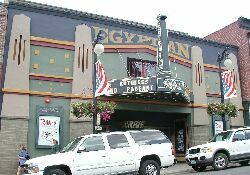 "Egyptian Theatre Company (ETC) is in residence at the historic Mary G Steiner Egyptian Theatre. Built in 1926 shortly after the discovery of King Tutankhamen's tomb, the Egyptian Theatre is a replica of Wamer's Egyptian Theatre in Pasadena, California and is one of only two Egyptian-revival buildings in Utah. "The theatre was originally designed to accommodate "talkies" and traveling vaudeville shows. In 1981, Egyptian Theatre Company (then Park City Performances) converted it into a live theatre venue. In 1984, it was awarded a historic building designation by the Park City Centennial Commission and underwent a $1.5 million renovation in 1998."[1]
In the early 1900's Park City's social and entertainment needs were served by a number of flourishing theaters and social halls. When the Dewey Theater, originally on this site, collapsed under a heavy snow load, John Rugar replaced it with the Egyptian Theater built in 1926. It was designed to seat 400 and to accommodate both movies and vaudeville. It became the first "sound movie" theater in Park City.
After being remodeled in 1963, the building opened as the Silver Wheel Theater, and old fashioned "meller dramas" were performed for the next fifteen years. In 1978 the building's architectural integrity was threatened by an attempt to change its facade to a western motif. Preservation of its distinctive Egyptian features was achieved, however, when the building became the home of Park City Performances in 1981.
The Egyptian Revival Style represents a unique period architecture which peaked in America around 1930. Egyptian theaters are rare, and this is one of only two remaining in Utah. Originally the interior contained replicas of Egyptian artifacts. This is a masonry structure with a false front shielding its hip roof. Tiles at the base of the ticket booth and pilasters in obelisk shape reinforce the Egyptian motif.[2]
1. egyptiantheatrecompany.org/2002season/topbarpages/2_about/page.html
2. From a historical marker presented by the Park City Centennial Commission