Menu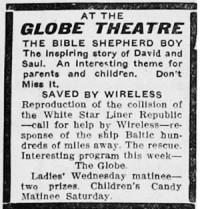 Globe Theatre

2530 Washington Avenue
Ogden, Utah 84401

(Before 1909 - 1914)

After opening the Electric Theatre to great success in November 1907, Charles Zeimer, Albert Scowcroft, and Harry Sims opened the Oracle Theatre then purchased the Globe and the Isis. The theater chain was later known known as the Alhambra Theatrical Company.[1][2]
The first newspaper advertisement for the Globe Theatre may have been one that appeared on 28 February 1909. By August 1909, the Globe was included in a group ad along with the Oracle and Isis.[1]
On 5 December 1914, the Alhambra Company announced that, until the new Alhambra Theatre was completed, releases from the Box Office Attraction Company, "the greatest feature house in the world," would show at the Globe Theatre because it had "a larger seating capacity."[3]
11 days later, on 16 December 1914, the newspaper ad for the Globe said, "Closed for repairs. Will open Christmas Day."[1] The Alhambra Theatrical Company announced three days later that the Globe would be remodeled into a roller skating rink, reopening on 23 December 1914. The floor was to be "one of the finest in the west," with a large restroom, a gentleman's restroom, and a check room.[4]
The Jitney Service Company later used the "old Globe theatre building" as a bus garage, but decided in April 1915 to discontinue downtown bus service because of the prohibitive cost of a new bond requirement.[5] A boxing event was held in the building in April 1916.[6] The Burrows Auto Company moved into a new garage in September 1916, "recently constructed in the old Globe theatre building . . . The new quarters are large enough to enable the company to attend to its business advantageously."[7]
1. "Theater on Hudson Avenue is to Cost Approximately $150,000", Ogden Standard Examiner, 26 March 1914, page 7
2. "About This That and T' Other", Ogden Standard Examiner, 15 July 1923, page 10
3. "The Cream of the Silent Drama", Ogden Standard Examiner, 5 December 1914, page 5
4. "Globe Theatre Remodeled", Ogden Standard Examiner, 19 December 1914, page 7
5. "Jitneys Are Taken out of Service", Ogden Standard Examiner, 12 April 1915, page 5
6. "Boxing Event in Globe Theater", Ogden Standard Examiner, 11 April 1916, page 3
7. "Burrows Auto Co Makes a Move", Ogden Standard Examiner, 16 September 1916, page 9