Menu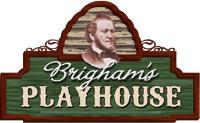 Broadway Bound
(Brigham's Playhouse)

25 North 300 West Building C-1
Washington, Utah 84780

broadwayboundcmt.org
(2014)

Brigham's Playhouse opened on 14 February 2014 with the production, "Little Women, a Little Musical." The theater is located in the remodeled town hall of Cottontown Village, a collection of historic buildings hosting shops and businesses with an old western town flavor.[1][2]
Jamie Young left a 19-year career as a professor of musical theater to create the Brigham's Playhouse performing arts group.[1]
"Throughout my career, I've found that my students are highly trained performing artists, but after leaving college, they have very limited opportunities to use their skill to make a living," Young said. "It's my hope to provide such opportunities to local people who want to work in the performing arts."[1]
Young researched many markets and found a high demand and low supply in the Washington area. The theater was named as a legacy to his great-great-great grandfather, Brigham Young, who established the Salt Lake Theatre in 1861.[1]
Unlike local performing arts groups, Brigham's Playhouse is a business rather than a nonprofit organization. The theater has 11 full-time employees and nearly $100,000 invested.[1]
Brigham's Playhouse seeks to provide "family audiences with excellent, affordable, Broadway-caliber, wholesome and edifying theatre." For performing artists, it offers a work environment "based on high moral and ethical values; conducive to inspiration from heavenly sources; and able to allow time with families and for community/church service." Its education program develops "creative & expressive artists" and is founded on "professional technique, family values, and principles of ethical living."[3]
1. "Brigham's Playhouse: Family legacy of uplifting entertainment; new theatre, debut show in Washington", St. George News, 31 January 2014
2. "Cottontown Village, Washington, UT", cottontownvillage.com, retrieved February 2014
3. "An Uplifting Experience", brighamsplayhouse.com, retrieved February 2014