Menu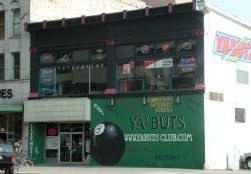 Cinema Theatre
(Bartzos Sam Cinema Theatre, Cinema In Your Face!)

45 West Broadway
Salt Lake City, Utah 84101

(1969 - 1991)

The Cinema Theatre, built by Spiros Bartzos, opened on 14 February 1969 with "The Magus," a 20th Century-Fox adaptation of John Fowles' best-selling novel. The theater was designed in knotty pine and had about 200 arm-chair seats. The theater was intended to show films with "adult appeal".[1]
From 1979 to 1981, the theater was known as the Bartzos Sam Cinema Theatre. In 1982 its name returned to Cinema Theatre.[2]

In 1987, the theater became "Cinema In Your Face". The theater showed art films until the operators lost their lease and moved to the Tower theater.

The theater was demolished in the early 2000s.
1. "Newest Theater in S.L. To Open With 'Magus'", Salt Lake Tribune, 14 February 1969, page D5
2. Salt Lake City Classified Business Directory, July 1970, July 1971, July 1972, July 1973, July 1976, July 1977, July 1978, July 1979, July 1980, July 1981, August 1982, August 1983, August 1984, August 1985, , August 1986