Menu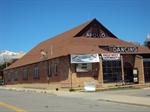 Apollo Hall

50 North Church Street
American Fork, Utah 84003
(435) 691-5418
(Before 1918 - ?)

The Apollo Hall opened sometime before 1918.[1]
George and Olive Osmond, parents of the Osmond Family, enjoyed dancing at the Apollo Hall and purchased the facility when it came up for sale. Their son, Virl Osmond, was in control of the Apollo in 2005, when it hosted a benefit performance by the Osmond Brothers for the Apollo Foundation, which provided instruction for "budding behind-the-scenes tech folks."[2]
The Fuell family reopened the Apollo Hall in February 2011, with a free family night on Monday the 4th, and a Grand Opening on Saturday the 8th. They renamed the hall "Apollo 8", after their eight children. Renovations were made to the reception area and the stage, which now has three tiers. The dance hall still has its 7,000 square foot, spring loaded dance floor. The Apollo 8 is available for events, weddings, and parties. Starting in July 2011, the hall hosts a Saturday swap meet and boutique.[3][4]
1. Polk's Utah Gazetteer and Business Directory, 1918-1919, 1922-1923
2. "Osmonds to sing at Apollo during New Year's Eve party", Deseret News, 22 December 2005
3. Guestbook, Tamra Fuell, August 2011
4. apollo8dance.com, August 2011