Menu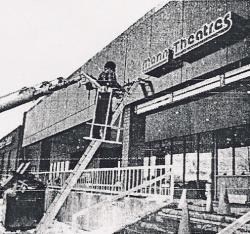 Creekside Cinemas
(Mann 5-6-7, Cottonwood 5-6-7)

4890 Highland Drive
Holladay, Utah

(1982 - 2000)

Mann Theaters opened the Creekside Cinemas on Friday, 17 December 1982, showing the movies "Best Friends," "Honkytonk Man," and "Trail of the Pink Panther." Governor Scott Matheson attended a VIP invitational screening and ribbon-cutting ceremony for the multiplex on Thursday, 16 December 1982.
The red brick triplex was build in the Creekside Center across the street from Cottonwood Mall. The largest of its three theaters had 350 luxury rocker seats, 70mm capability, and a Dolby Stereo sound system. Parking was located beneath the theater complex and shopping center.
In the theater's opening day ad the Creekside Cinemas was referred to as the Cottonwood 5-6-7, as if it was an extension of Mann Theaters' four-screen theater at Cottonwood Mall. The name which appeared on the front of the building was Mann 5-6-7.
Carmike Cinemas, which acquired the theater in 1993, added a DTS Digital sound system to the largest auditorium.
The Creekside Cinemas closed after Carmike Cinemas entered bankruptcy in the fall of 2000. The theater has been gutted and converted into four retail spaces.[1][2]
1. "Creekside theater complex opens", Deseret News, 17 December 1982, page W11
2. "Newspaper-Ads", Creekside Cinemas (Holladay), "Grand Opening Ad", 16 December 1982