Menu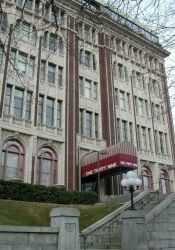 Elks Cinema

139 East South Temple
Salt Lake City, Utah

(1977 - 1985)

The Cooper-Highland circuit of Denver built the twin-screen Elks Cinema in the old Elks Lodge on South Temple Street. The theater may have opened a few weeks after 22 December 1976, which is when the theater chain opened the Flick at Trolley Square.[1]

In 1979, the Utah / U.S. Film Festival (which later became the Sundance Film Festival) was held at the Elks Theater.[2]

The Elks Cinema closed after 1985.[3]
1. "Eight new screens added to theaters", Deseret News, 23 December 1976, page C7
2. "The little Festival that could", Deseret News, 15 January 1998, page C1
3. Salt Lake City Classified Business Directory, July 1978 through August 1985