Menu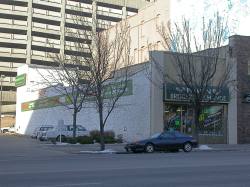 Empire Theater

160 South State Street
Salt Lake City, Utah

(1908 - 1955)

The Empire, which opened in 1908, was the first movie theater in Salt Lake. The theater was located at 160 South State, next to the Gem theater and down the street from the Promised Valley Playhouse.

The building was built in 1906, so the theater may have been a converted store. The theater was founded by Harry S. Rand, who owned a chain of hotels until he lost much of his fortune in the San Francisco fire of 1906. In 1908, Mr. Rand started a chain of theaters in Salt Lake and Denver. He personally managed the Empire theater in Salt Lake until 1916 and then turned the lease over to W. E. Shipley.

The Empire installed a sound system in 1930, but the theater could not make the transition to widescreen films in the early 1950s. The theater was too long and narrow. W. E. Shipley retired in 1950, and the Empire closed about 1955. [1] The building became Scheibner's Health Food Store and later Pawn Broker Exchange.
1. Polk's Salt Lake City Directory, 1908, 1930; Polk's Utah Gazetteer and Business Directory, 1908-1909, 1912-1913, 1918-1919, 1920-1921, 1922-1923, 1927-1928, 1930-1931; Salt Lake City Classified Business Directory, Summer 1931 through 1954-1955