Menu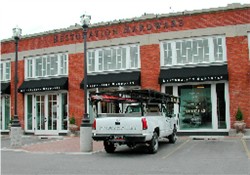 Flick Theatre
(The Flick at Trolley Square)

602 East 500 South
Salt Lake City, Utah

(1976 - 1998)

The Cooper-Highland circuit of Denver
1
opened the Flick Theatres on 22 December 1976 with both 300-seat auditoriums
2
showing "The Seven Per-Cent Solution." The theaters, located across from the Trolley Theatres at Trolley Square, featured "lavish draperies in the main auditoriums, as well as the rich-looking, expensive carpeting in the lobby area."
1
In about 1982, Mann Theatres purchased the Flick Theater.
3
Carmike Cinemas acquired the theater in the mid-1990s. The theater closed permanently about 23 April 1998 and the space was converted to retail.
1.
"
Eight new screens added to theaters"
, Deseret News, 23 December 1976, C7
2.
"Flick Theatres Open Today"
, 22 December 1976, Salt Lake Tribune, page 12A
3.
"Creekside theater complex opens"
, Deseret News, 17 December 1982, page W11