Menu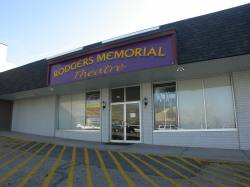 Rodgers Memorial Theatre
(Pages Lane Theater)

292 East Pages Lane
Centerville, Utah 84014

(1991 - 2011)

The Pages Lane Theater was established in 1991 by Ralph Rodgers, who previoulsy had managed the Promised Valley Playhouse in Salt Lake City and the Polynesian Cultural Center in Hawaii.

After Ralph Rodgers died in 1996 the Rodgers family donated the theater to the Davis County Performing Arts Corporation, a non-profit group led by real estate developer Bill Davies. The theater reopened in 1997 as the Rodgers Memorial Theatre.

Rodgers Memorial Theatre has experienced "phenomenal growth" because of "increased performances, interior upgrades and popular productions" and "community donations of time and money". The theater hopes to move to a larger facility.[1]
1. "Rogers Memorial Theater", KSL Radio, 21 May 2002